Many independent practice owners are often a little afraid to use social media to promote their businesses. Some may even choose not to have a social media presence to avoid the possibilities of backlash and dealing with angry or unreasonable customers. Here's how one company got it spectacularly wrong during the Covid-19 pandemic, what they should have done and some tips for how it can and should work to your advantage...
News
Editor's Choice
Eye drops remain the dominant treatment for glaucoma and continue to have patient appeal despite innovations in laser and surgery. The glaucoma drops available...
Electronic cigarettes (e-cigarettes) or vaping devices heat nicotine, flavours and other chemicals to create a vapour the user inhales. Vaping has been...
If you are reading this in its lustrous glossy printed form, you have in your hands a suddenly quite rare and precious thing: a magazine.
Features
Optometry Australia's (OA's) first online conference and product showcase Optometry Virtually Connected attracted more than 2,200 registrations, making...
Bradley Walsh, the Dr Who and Coronation Street actor, footballer and witty presenter of UK ITV's The Chase, now starring in Bradley Walsh & Son: Breaking...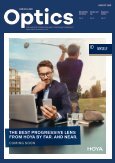 Aug 2020
If you are a subscriber, please click
here
to read the latest Aug 2020 issue of
NZ Optics