In ophthalmology, 'neuroprotection' usually refers to methods of preventing progressive glaucomatous visual field loss that are not intraocular pressure (IOP) reduction treatments. Nicotinamide is a form of vitamin B3, which is transformed into nicotinamide adenine dinucleotide (NAD) within mitochondria. NAD is a major chemical in all the vital processes of cellular metabolism and is also critical for DNA repair through the Sirtuin pathway.
News
Editor's Choice
Features
Presbyopia is almost as inevitable as death and taxes. Practical solutions have been sought since time immemorial, particularly ones that free us of pesky...
The desire to make a positive impact on the planet and reduce our carbon footprint is more widespread than ever before. We may switch our plastic food...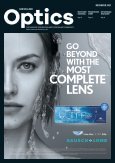 Dec 2021
If you are a current valid subscriber, please click
here
to read the latest Dec 2021 issue of
NZ Optics