Should we look for dry eye on every patient? I get this question with some frequency. I admit I find it perplexing. I am reminded of a practitioner asking me several years ago if I did biomicroscopy on every patient. Well, of course! Do I look for dry eye disease on every patient? The answer is a resounding YES! Allow me to explain why.
News
Editor's Choice
Features
No one could have imagined what 2020 would bring, least of all those in the eye professions for whom '2020', by all rights, was supposed to be our 'perfect'...
With apologies to William Shakespeare for the title, this was indeed the question addressed in our recent literature review1. With increasing availability...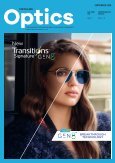 Sep 2020
If you are a current valid subscriber, please click
here
to read the latest Sep 2020 issue of
NZ Optics