Dr Ben LaHood reports on how the Australasian Society of Cataract and Refractive Surgeons (AUSCRS) led the way for virtual conferences with its 2021 meeting.
News
Editor's Choice
Characteristics of patients with complete VA recovery after vitrectomy for macula-off retinal detachmentKonstantinidis L et alEye (Lond). 2021 Oct;35(10):2834-2839
Over the years I've found that writing about the informal aspects of being a part- or full-time 'Blindy' is an odd way to pass the time. It often presents...
Uveitis is a fascinating world but can be intimidating for the uninitiated. Outside anterior uveitis and scleritis, many uveitis diseases are uncommon...
Features
The healthy human iris consists of five layers: the anterior-border layer, stroma, iris sphincter muscle, iris dilator muscle and the iris pigment epithelium...
When you hear the term 'health and safety at work', I assume you automatically think about your own workplace, staff or safety spectacles. I do. But as...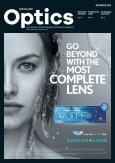 Dec 2021
If you are a current valid subscriber, please click
here
to read the latest Dec 2021 issue of
NZ Optics