By 2050, the number of people over 65 will have tripled worldwide and around one in three living at home will have at least one fall per year, according to the UK's National Health Service. At the Vision Institute in Paris, Emmanuel Gutmann has developed a unique platform, called StreetLab, to reproduce naturalistic situations to assess and help improve the autonomy and mobility of visually impaired people and seniors... 
News
Editor's Choice
In the early Sixties, driven by the efforts of pioneering dentist-turned-contact lens manufacturer Eugene Hirst (original co-founder of Mortimer Hirst...
Roughly one year ago, the nation and the world were catapulted into our brand-new world of Covid-19 lockdown and home confinement. Fears began to surface...
Kiwi optometrists are being asked to sign-up to the new Save Sight Keratoconus Registry (SSKR) optometry module.
Features
February 2020 saw the first cases of Covid-19 appear in New Zealand. Over the following weeks borders were gradually closed and, as we know, New Zealand...
Although conjunctival melanoma is uncommon, when diagnosed late it can lead to metastatic disease and even death. It is classified according to the American...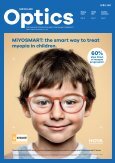 April 2021
If you are a current valid subscriber, please click
here
to read the latest April 2021 issue of
NZ Optics