Whoopee, it's party time! Some folks enjoy them, personally I don't! But it's a giving time and one must make an effort. Having done so, I hope a few fellow white caners gain something from my recollections.
News
Editor's Choice
Features
Legendary American musician, singer-songwriter and record producer Steveland Hardaway Morris, aka Stevie Wonder, born 13 May 1950, has been blind since...
The LEAD study or Laser Intervention in early stages of age-related macular degeneration (AMD) trial was a world-first study into the safety and efficacy...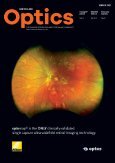 March 2021
If you are a current valid subscriber, please click
here
to read the latest March 2021 issue of
NZ Optics