The force behind many pivotal moments in ophthalmic nursing in New Zealand over the past 30 years, Sue Raynel spent her nursing career campaigning for change for better patient care. With retirement looming, Louise Wood took a look at just some of these achievements.
News
Editor's Choice
Features
Researchers from the Shiley Eye Institute at UC San Diego Health in the US have shown it may be possible to detect heart disease using retinal optical...
Indecision is the thief of opportunity: it will steal you blind, said Cicero in part. Theodore Roosevelt said it differently, "In any moment of decision,...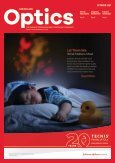 Oct 2021
If you are a current valid subscriber, please click
here
to read the latest Oct 2021 issue of
NZ Optics