He aha te mea nui o te ao? He tangata he tangata he tangata. What is the most important thing in this world? It is people, it is people, it is people.
This Māori whakataukī (proverb) doesn't have any greater application than in the world of healthcare and for providing more equitable outcomes in health from research to practice...
News
Editor's Choice
In the early days of my clinical career, most products for managing dry eye disease (DED) focused on increasing eye lubrication using a limited range of...
Amniotic membrane (amnion) is the innermost layer of the amniotic sac, which surrounds the baby during pregnancy1. Amniotic membrane has been considered...
Features
Scotland, like many places, has experienced a cycle of peaks and troughs in Covid-19 case numbers and corresponding restriction levels. I work as part...
As research in dry eye disease continues to take important steps forward, industry partners have stepped up to bring an exciting range of multifunctional...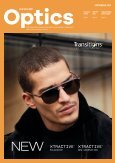 Sep 2021
If you are a current valid subscriber, please click
here
to read the latest Sep 2021 issue of
NZ Optics