Often half the battle in securing sales in the optometry game comes down to capturing customer attention and physically getting them in the door, so the right window display is key. Kerry van Beuge from Through the Looking Glass has more than a decade of experience as a window stylist and some 8,000 optical window displays under her belt. She was kind enough to share some of that knowledge with us...
News
Editor's Choice
Features
In my first article*, I discussed why and how you can use video to promote your practice. But how do you actually go about making your first video? Well,...
Specsavers has wrapped up its first ever SCC Online Series, reaching more than 5000 participants collectively across the season.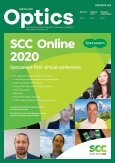 Nov 2020
If you are a current valid subscriber, please click
here
to read the latest Nov 2020 issue of
NZ Optics