A University of Waterloo review of emerging contact lens (CL) technologies has highlighted several innovative concepts spanning treatment, diagnostics, monitoring and drug delivery systems...
News
Editor's Choice
Features
One of the great things about our speciality is that we have so much wonderful technology at our disposal. One of the terrible things about our speciality...
I applaud the huge effort put in by Drs Anne-Marie Yardley and Brenda Breidenstein for organising and hosting this year's Australian and New Zealand Strabismus...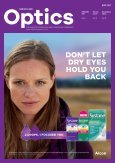 May 2021
If you are a current valid subscriber, please click
here
to read the latest May 2021 issue of
NZ Optics