What a turbulent year 2020 has been for health! We have bravely rallied against invisible viral pathogens, survived the eczema-inducing deluge of alcohol-based hand sanitiser and remained relatively sane despite the monotony of lockdown. However, there's one disease that we have not conquered (and) has probably grown teeth over this winter, wallowing in a perfect growth-medium of home detention and screen-based entertainment: childhood myopia! As vice-president of the Orthokeratology Society of Oceania, I was recently involved in a particularly good webinar exploring some of the recent research from three of Australia's top myopia investigators...
News
Editor's Choice
Features
Oh, I do remember all those years ago the fundamentals of function, fit, and fashion – Optical Dispensing 101. My oh my how times have changed. From the...
Uveitis-glaucoma-hyphaema (UGH) syndrome is a late, postoperative complication traditionally associated with implantation of anterior chamber (AC) intraocular...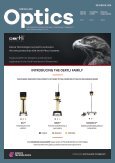 Dec 2020
If you are a current valid subscriber, please click
here
to read the latest Dec 2020 issue of
NZ Optics