Ready for summer 2022? Jai Breitnauer shares all the style, health and sustainability trends taking Europe and America by storm this summer.
News
Editor's Choice
Across high-income countries, cataract surgery is one of the most commonly performed surgical procedures, improving vision and quality of life, slowing...
A 37-year-old male was noted to have decreased visual acuity (VA) in his left eye during a routine optometry exam. His previous medical and ocular history...
Safety and efficacy of AGN-190584 in individuals with presbyopia: The Gemini 1 phase 3 randomised clinical trialDr George Waring IV et al
Features
This was the first International Orthoptics Association (IOA) annual congress to be held entirely virtually. Although it was a shame not to be able to...
Our inherited retinal disease (IRD) research team needs your input to help us identify educational content relating to ocular genetics and gene therapy...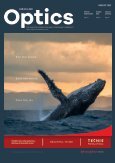 Aug 2022
If you are a current valid subscriber, please click
here
to read the latest Aug 2022 issue of
NZ Optics