Patients not showing up to their scheduled appointments is a significant issue, estimated to cost the New Zealand healthcare system $29 million each year1.
News
Editor's Choice
Features
The world of ocular surface health has lately sprawled, owing to a rapid, radical revolution in understanding and practice. How did we get there as a field...
Much like the rest of the world, the Mido Eyewear Show had to endure a two-year hiatus, eventually taking place on 30 April-2 May 2022, belatedly celebrating...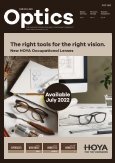 July 2022
If you are a current valid subscriber, please click
here
to read the latest July 2022 issue of
NZ Optics