Gathering eye injury data since 2019, The International Globe and Adnexal Trauma Epidemiology Study (IGATES) is increasingly identifying national and demographic trends, plus some unexpected lockdown effects.
News
Editor's Choice
Features
The force behind many pivotal moments in ophthalmic nursing in New Zealand over the past 30 years, Sue Raynel spent her nursing career campaigning for...
Researchers from the Shiley Eye Institute at UC San Diego Health in the US have shown it may be possible to detect heart disease using retinal optical...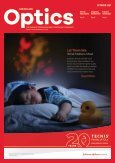 Oct 2021
If you are a current valid subscriber, please click
here
to read the latest Oct 2021 issue of
NZ Optics