Frustrated by Facebook's decision to stop her promoting her business-to-business-focused Facebook sites after she declined to share confidential proof-of-identity details with the social networking behemoth, Lesley Springall sought answers on what to do when you're left in the lurch by Facebook.
News
Editor's Choice
Features
Presbyopia is almost as inevitable as death and taxes. Practical solutions have been sought since time immemorial, particularly ones that free us of pesky...
The desire to make a positive impact on the planet and reduce our carbon footprint is more widespread than ever before. We may switch our plastic food...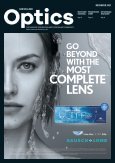 Dec 2021
If you are a current valid subscriber, please click
here
to read the latest Dec 2021 issue of
NZ Optics